Graphic Packaging International hired RK & Associates to conduct a thorough odor investigation requested by the Michigan Department of Environment, Great Lakes, and Energy (EGLE). EGLE approved a scope of the study in June 2020, which included a plan to use two devices to detect and measure odor thresholds and hydrogen sulfide (H2S) concentrations.
In a comprehensive report that was submitted to EGLE on November 3, 2020 RK & Associates concluded that Graphic Packaging does not emit nuisance odors. Even with these favorable findings, Graphic Packaging made a commitment to continue to take proactive steps to minimize odors connected to its operations and work with local and state regulators. Graphic Packaging submitted a Nuisance Minimization Plan for Odors to EGLE at the end of December, which included measures designed to minimize the potential for odors to be generated from its facility.
A summary of the RK & Associates study, its key findings and our ongoing commitments to the community follows below:
H2S Measurements
During its field work, RK & Associates took 624 measurements of H2S concentrations at the Graphic Packaging property perimeter and community locations during a 60-day study period. A total of 580 of those measurements registered a result of either less than 0.002 parts per million (PPM) or registered zero PPM.
Those measurements were taken from five locations on the perimeter of Graphic Packaging's mill and 19 locations throughout the community/neighborhood. The monitoring locations were approved by EGLE. The table below summarizes the number of odor readings which fall within various H2S concentration ranges during the study period: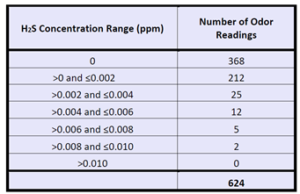 Odor Threshold Measurements
In terms of general odor measurements, the results were separated between mill perimeter locations and community locations. According to RK & Associates, it is important to separate the two "because any well-run industrial facility will have some odors at its property perimeter."
A total of 416 measurements were taken to measure general odor readings throughout the community. For approximately 90% of those readings, there was either no odor or the odor was characterized as "other" common community odors. There were 38 readings where an odor was detected that was characterized as "paper mill." However, the study concluded that, "In RKA's professional opinion, these potential paper mill odor levels do not constitute an odor 'nuisance' within the neighboring community."
Here is a summary of the key findings:
Approximately 90% of the odor measurements in the community found that there was either no odor or odor associated with common community odors such as cut grass, asphalt/tar, mulch, etc.
The hydrogen sulfide measured concentrations were extremely low, with the highest being 0.010 PPM.
Odor thresholds measured at the mill perimeter locations were consistent with expected odors near an industrial facility.
This study is just one part of Graphic Packaging's efforts to better understand the odor issues in the surrounding community and to address those issues. We are using this study to further refine our approach to minimizing potential odors from our operations. As part of our agreement with EGLE, we will use this study to develop a Nuisance Minimization Plan for Odors that will be submitted to EGLE on or before January 1, 2021.
In addition, Graphic Packaging will:
Provide quarterly reports to the City of Kalamazoo summarizing our odor mitigation efforts.
Continue to work with the community's Odor Task Force.
Continue to remove sludge from the concrete pad along Patterson Street five to six days per week. Historically this was performed two or three days per week. This has reduced the potential for composting odors.
Continue to add chemical treatments to the clarifier to reduce the potential for odor.
Continue to use the Envirosuite monitoring network installed in September to monitor H2S ambient air concentrations at various locations.
Continue to work with RK & Associates and two other consultants to finalize the operational practices to minimize odors from our operations.